Thanksgiving is only a little over a month away, and as you begin preparing for the holiday season, it's important to make sure you're taking care of yourself as well. Chronic back pain can be quite the hindrance to enjoying this time of year, and if you're experiencing discomfort, the Colorado Spine Institute (CSI) in Loveland is here to help. If you have a herniated or bulging disc, or a condition such as scoliosis or sciatica is impacting your life, make an appointment with us today.
In this post, we'll look at some of the leading causes of holiday back pain, and what you can do to prevent them.
#1. Decorating
You love getting your house ready for the season, and whether you're putting up autumnal decor or hanging holiday lights, it's important to practice safe techniques and utilize the proper equipment. Make sure the ladder you're using is sturdy, and be sure not to stretch too far when hanging or attaching something. Working above your head can be a quick way to aggravating your back. Take plenty of breaks, and if you have to, employ someone else to finish those hard-to-reach spots on the exterior of your house.
#2. Shopping
The holiday season is full of lists, whether it's a list of gifts you need to buy or what you need to pick up at the grocery store. Picking up that 15-pound turkey could leave you in pain, and most stores have staff who are more than willing to help. If you're headed to the mall to shop for gifts, make sure you know what you're getting, and if you're buying a large present for someone, have a store employee help you carry it out. Never try to pick up something heavy on your own, and never try to get something off the top shelf.
#3. Weather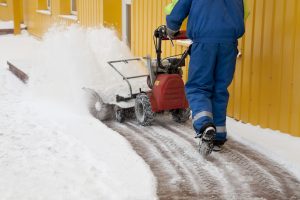 Many people claim that they can "feel the weather in their bones," and while it may be true that pressure and temperature changes affect certain people, it's always important to be aware of what it's doing outside. If you're out shoveling your sidewalk after the latest Front Range snowfall, be sure you have a shovel that's long enough and sturdy enough – the less you have to bend and push, the better. Also, be sure to salt those icy patches – a slip and fall can be the quickest way to severe back pain or injury.
These three are just a few of the things that can cause back pain during the holidays. Traveling, yard work, and many others can exacerbate an existing condition, or could lead to strain on the muscles and joints in your back. If you're experiencing discomfort or you're unable to do tasks you used to do, schedule an appointment with CSI in Loveland today. We'll thoroughly examine your back and your spine, and explain what is causing your pain. We'll discuss treatment options and help you find the best way to enjoy the holidays.
Contact us at (970) 342-2220 or fill out the form below.