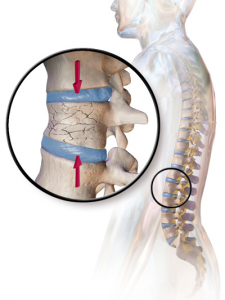 As a person ages, they often expect to experience more aches and pains, either due to strain on their joints, an injury they've sustained, or an excess or lack of activity. There are many reasons why people experience more lower back pain as they age, and why they become more susceptible to certain spinal conditions. Factors such as genetics, repetitive motion, and others can all contribute to spinal pain and discomfort, and at the Colorado Spine Institute (CSI) in Loveland, we can help you understand what's happening to your body as you age. In this blog, we'll look at what happens to the spinal column as a person ages.
Everyday Stresses
It's pretty simple – the older you get, the more stress your body has been through and the more pain you may experience. This can be due to degenerative disc disease, where the discs between the vertebrae begin to wear down and lose moisture. This can cause the vertebrae to rub against one another, causing pain. Another condition that can arise is spinal stenosis, or the narrowing of the spinal canal. This can cause pressure on the spinal cord and the nerves contained within, resulting in shooting pain and limited mobility. Stenosis in the lumbar (lower) spine can result in pain that only occurs when standing or walking, but goes away when you sit down.
Spinal Osteoporosis and Compression Fractures
As a person ages, they can become more susceptible to osteoporosis in their bones. Osteoporosis can occur because of vitamin deficiencies or hormonal changes, and the bones in the spine may become brittle and weak. This can lead to compression fractures that cause a change in posture and an actual "loss of height" in some people. Vertebrae are small and spongy, and if they're compromised by osteoporosis and then have increased pressure placed on them, they can compress and fracture. If you've known a friend or relative who appears more "stooped" than they used to, osteoporosis could be to blame. Our spinal specialists can help you understand what's going on with your vertebrae and if you're at risk for compression fractures.
Caring for Your Spine As You Age
There are many things you can do to care for your spine as you age. With the right approach, you can hopefully avoid lower back pain and spinal conditions that keep you from doing the things you love.
Regular doctor's visits – Schedule regular appointments with your general physician or a spinal specialist so that any issues can be caught and diagnosed in an early stage.
Take note of your activities – You may be a very active person, and even as you age, you might be able to continue hiking, biking, and skiing. However, it's important to take note of what kind of stress you're putting on your spine, and whether or not it can handle it.
Buy a new mattress – As you age, you may need a better mattress to give your spine better support. Perhaps you could sleep on a firm mattress when you were 30, but now that you're 50, it might be time for something a bit softer and more supportive.
If you're concerned about the health of your spine as you get older, contact the experts at CSI in Loveland today. We can examine your spine and help you understand why you're experiencing pain when you perform certain activities, or simply when you get up in the morning. We know that not knowing the reason behind your pain can make you anxious, and we're here to relieve that anxiety.
Call today or fill out the form below to schedule your initial appointment.